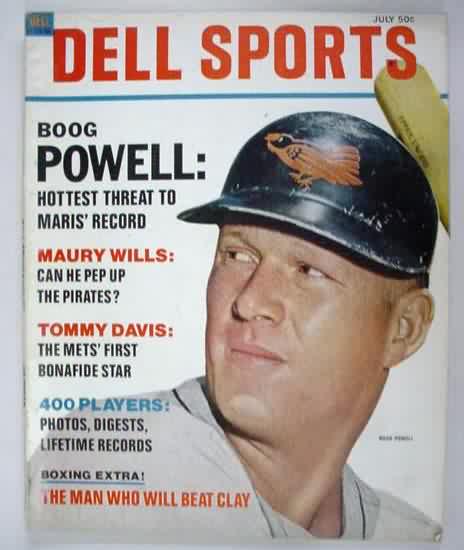 Baseball fans might argue that nicknames just aren't what they used to be.
Classics like Bip (Roberts), Pokey (Reese), Cookie (Rojas), Bake (McBride) and Boog (Powell, pictured above) have retired and moved out of our collective consciousness, replaced by a largely boring group of successors. Take, for example, some of the most high-profile baseball nicknames in recent memory: "Schill" for Curt Schilling, "Tek" for Jason Varitek, and "A-Rod" for Alex Rodriguez. Those aren't real nicknames — those are lazy, simple name abbreviations that require minimal effort at best.
But all hope is not lost.
While the Major Leagues in the new millennium has nothing on the Negro Leagues of the 1940s, which produced by far the best nicknames ever (including "Cool Papa," "Satchel," "Turkey" and "Double Duty," just to name a few of the well-known ones), there are still some good ones out there, even ones that don't have to "stay in the clubhouse."
Here's Youneverknow's starting lineup of the best nine nicknames in the big leagues, along with a pretty potent bench.
STARTING LINEUP
1. Boof Bonser, P, Minnesota Twins: He was born John Paul Bonser, which means it wouldn't be surprising if his nickname was "The Pontiff" or something papal like that. Nope. As a child, he picked up the moniker of Boof, which puts him one digit ahead of Boog Powell in our book and in the good ol' alphabet. Normally, childhood non-ball-related nicknames wouldn't crack the starting lineup — see Jones, Chipper below — but when Bonser had his name legally changed to Boof, he exhibited the dedication and fortitude to get the ball every fifth day on our squad.
2. David "Big Papi" Ortiz, DH, Boston Red Sox: Only a grizzly of a dude with a huge swing and a huger smile could pull off this nickname. Ever since Theo Epstein astutely plucked him out of the non-tender scrap heap in the winter of 2002, Ortiz, his monster bat and his authentic Dominican nickname have been as much of a part of Beantown lore as Fenway Pahhhhk itself.
3. Frank "The Big Hurt" Thomas, DH, Free Agent: Thomas was given this nickname by the loquacious Chicago White Sox broadcaster, Ken Harrelson, who has a decent little nickname — "Hawk" — himself, and it stuck, big-time. There's simply no better way to describe a man of cartoonish baseball proportion (6-foot-5, almost 260 lbs.) who played football at Auburn, or the damage he inflicts on baseballs on a nightly basis, as his 500-plus career homers has proven. Let's hope he suits up for another big-league team soon.
4. Travis "Pronk" Hafner, DH, Cleveland Indians: Still not sure how this one means "half-project, half-donkey." Wouldn't that be "pronkey?" Doesn't matter, though. The nickname is random, it's silly, and it somehow works beautifully to describe this behemoth slugger who grew up braving 20-below winters in North Dakota and looks like he was carved out of limestone with an ice pick.
5. Dontrelle "D-Train" Willis, P, Detroit Tigers: It's a pretty simple nickname, but with the high socks, the cap turned slightly to the side, the huge leg kick and his infectious love and enthusiasm for the game, Willis turns it into one of the most perfect monikers in the business. Plus, it's better now that he's actually got a "D" on his lid.
6. Kenny "The Gambler" Rogers, P, Free Agent: Although it doesn't take a Mensa member to figure out that this crafty southpaw vet's got the same exact name as the white-bearded country crooner who dominated the 1970s charts with schlocky songs like, "She Believes In Me," this is the right nickname for the pitcher. The song referenced in the nickname is a downright cool honky-tonk classic, with the unforgettable "You gotta know when to hold 'em, know when to fold 'em …" chorus. And even this media-shy guy knows it's better to be referenced as a casino shark than a rotisserie chicken, which would be the other option for this name.
7. Covelli "Coco" Crisp, OF, Kansas City Royals: He was born Covelli Crisp, which is interesting enough and helps explain how that turned to "Coco." And while Cincinnati closer Francisco Cordero has the same nickname, cleverly taken from the last syllable in his first name and the first syllable in his last name, Boston wins the battle of Cocos because when you place this nickname in front of the last name Crisp, you've got, hands down, one of the great names in baseball history.
8. Randy "The Big Unit" Johnson, P, San Francisco Giants: Such a perfect way to describe a man who broke into big-league baseball with a never-before-seen 6-foot-10 frame, a 98-mph fastball, a sick slider coming from a wayward left hand, a magical, mystical mullet, a mustachioed scowl and a Hall of Fame career in front of him. The fact that Tim "Rock" Raines gave him his nickname makes it even more legendary.
9. "Everyday" Eddie Guardado, P, Texas Rangers: OK, so injuries have limited what used to be "Everyday" Eddie to "Hardly Any Day Lately" Eddie, but the sentiment is still there. This little closer with a huge heart has put up solid seasons finishing games for several teams and is now trying once again to get his game back in shape for the Rangers. Once his aging body allows him to once again take the ball every day, you know he'll be ready.
BENCH
Roy "Doc" Halladay, P, Toronto Blue Jays: At first, it seems pretty lame — a pat, easy reference to the Old West. But there's enough creative cache to make it a solid nickname when you realize that Halladay's multiple injuries have him seeing the Doc more than most players.
Kevin "Youk" Youkilis, 1B/3B, Boston Red Sox: Again, a boring, typical name abbreviation, but we'll cut him slack because he has his own MLBlog with the "proper" exaggerated spelling of the nickname ("Yooooouuuuukkkkk") and his own Fenway chant. He's also got one of the best goatees in the game, too. That's gotta be worth something.
Tom "Flash" Gordon, P, Arizona Diamondbacks: It's obvious but lasting, and anything that makes you think of the horrendously wonderful 1980 movie with Sam J. Jones as Flash and Max Von Sydow as Ming The Merciless is a very good thing.
Ken "Junior" Griffey Jr., OF, Seattle Mariners: It's a pretty lame nickname at face value, but when you're a surefire Hall of Famer with one of the best swings ever, everyone in the world knows you by this one name. That's iconic and good enough for a spot on this team.
Francisco "K-Rod" Rodriguez, P, New York Mets: It's a great thing to be a 20-year-old September call-up who blows away everyone in the playoffs and helps win a franchise's first World Series. It also earned him a much better nickname than plain old "Frankie."
"King" Felix Hernandez, P, Seattle Mariners: There's no pressure at all when you make the Major Leagues at 19 years old, fans expect you to win the Cy Young Award right away, and you get handed this nickname. No pressure. Right?
Larry "Chipper" Jones, 3B, Atlanta Braves: No doubt it's a good nickname, but it was used long before he was in the Major Leagues, which means he loses points. Seriously, he could have just as easily been Chipper the aluminum-siding installer or door-to-door frozen meat-and-fish salesman. And, strangely, the nickname might have worked better then.
Eric "Captain America" Byrnes, OF, Arizona Diamondbacks: Byrnes was known by this colorful, animated nickname when starring for the Licey Tigers in the Dominican winter leagues, and it's perfect to describe his all-out, hair-on-fire style of play. But somehow the name hasn't been brought back to the States, where he's tragically known as "Byrnesie." D-backs fans, you have the power to change this.